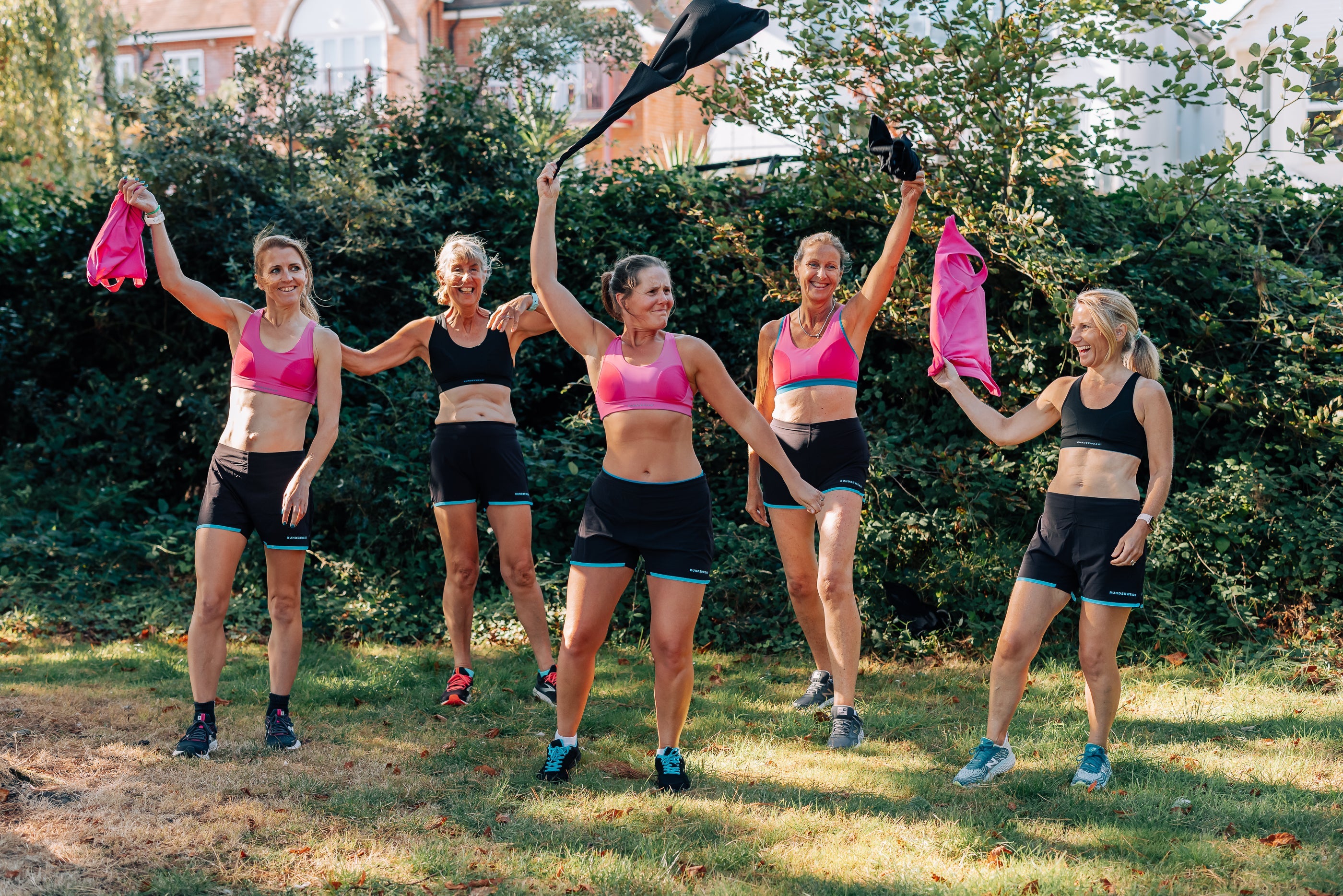 Running Bra Frequently Asked Questions
What is the difference between the Power (Easy-On) and Energize (Original v5) runderwear running bras?

Both running bras have been designed by runners so are suitable for running but also a range of other activities. The Power running bra is a high impact encapsulation style running bra with a fully opening back which comes in cup sizes C-H, designed for women with larger breasts. The Energize running bra is a compression style medium impact running bra with a racerback which comes in cup sizes A-D. The Power running bra is more structured with moulded cups compared to the Energize running bra which does not have cups and is more flexible. If you are a cup size C or D, you can choose between either style.
Can I run in the runderwear Balance bra?

The runderwear Balance bra is perfect for lower impact activity, such as strength and conditioning or yoga, but we do not recommend running in the Balance bra.
Why is it so important to wear a running-specific bra when you run?

Running is a high-impact activity, meaning there is greater degree of breast movement in comparison to other sports. If you're not properly supported, this movement can cause irreversible damage to the ligaments found in women's breasts – these are called the coopers ligaments. Running bras are specifically designed to reduce this movement by up to 83%.
Why does the runderwear Bra Fit Finder recommend a different size to my usual bra size?

Different brands use different sizing methods, so it is completely normal to be a different size in your runderwear running bra in comparison to another brand, that's why we like to call it your 'runderwear size'. At runderwear, like some other brands, we use the plus 4 method. This means 4 inches is added to your underbust measurement to calculate the correct underband size. The runderwear Bra Size Finder is specifically designed to align with the sizing of our bras. The most important factor here is having a well fitted, supportive running bra, so do not worry if the size is different to what you might expect. If you are unsure on sizing, or if your runderwear running bra is not the correct fit, contact our bra expert Molly at brahelp@runderwear.co.uk
How does runderwear sizing compare to other brands?

It is always best to use the runderwear Bra Size Finder but here is a comparison of how our sizing compares to some other brands:

Shock Absorber: Go up 1 underband size (or 2 inches) from your Shock Absorber size to calculate your runderwear size
Brooks: Go up 3 cup sizes from your Brooks size to calculate your runderwear size
Sweaty Betty: Go 2 underband sizes (or 4 inches) up from your Sweaty Betty size to get your runderwear size
Maaree: Go 2 underband sizes (or 4 inches) from your Maaree bra size to get your runderwear size
This is when the overall cup volume stays the same, but the band size and cup letter change in opposite directions. For example, if you tried a 36C bra on and the cup fitted but the underband was too tight, then you would go up a band size and down a cup size to become 38B. Alternatively, if the 36C bra fitted on the cup but the underband was too loose, you would go down a band size and up a cup size to become 34D. Still confused or unsure on the fit of your running bra, contact Molly at brahelp@runderwear.co.uk
What hook and eyelet closure should I wear my running bra on when it first arrives?

It is generally advised that new running bras should be comfortable and supportive on the loosest setting. This means you can tighten the bra twice throughout its lifetime. Inevitably repeated wearing and washing will cause your bra to stretch over time – don't worry - this just shows how much you love our bra and that it's done a great job! If your bra is well worn, but not exhausted, it may no longer be giving you the running support you need. At this stage we recommend repurposing the bra for lower impact exercise, such as yoga or stretching, but upgrading to a new bra for your running, where higher support is required. If you find yourself between underband sizes, you could start on the middle clasp setting as this still allows you to tighten the running bra over time, but we recommend trying both underband sizes to be sure.
How do I know if my running bra is too tight?

A well fitted running bra should be supportive but still comfortable. If you feel restricted or if it feels like it is digging in, then it is likely not the right size for you. You may need to go up an underband size and/or a cup size. Don't forget about sister sizing though which means if you change your underband your cup will change too! If you would like some help with fitting or measuring, please drop us a line at brahelp@runderwear.co.uk
What do I do if my running bra does not fit when it arrives?

If you are unsure if your new runderwear bra is the perfect fit, please drop our bra expert Molly a line at brahelp@runderwear.co.uk - she will be able to provide advice on whether you have purchased the correct size and if not, what alternative size you should purchase. We offer free exchanges until you find the perfect fit!
How should I care for my runderwear running bra?

We advise that you should machine wash your running bra at 40 degrees with similar colours. Never bleach, tumble dry, dry clean or iron your running bra. Check out our aftercare blog for further tips on keeping your running bra in shape.
How do I know when to replace my runderwear running bra?

When you find a bra you love, it's inevitable that over time it will stretch and likely provide less support. There are currently no definitive guidelines as to when a running bra should be replaced. However, here are a few things to look out for which may indicate it may be time for a new running bra: if you have noticed your running bra does not feel as supportive, you notice a change in shape, or if you are on the tightest underband setting and it still feels loose. Don't worry, we can help - head to runderwear to find your perfect running bra – this is a great time to check your size using ourBra Size Finder– our bodies and boobs are changing all the time, so check your size before you order.
Why can't I buy a bra larger than an H cup?

We currently offer 63 different sizes but unfortunately as a small company it's not possible to stock every size at this moment in time. However, we are always aiming to evolve our range of sizes. Our team at runderwear HQ are currently working with suppliers with a focus on being able to place lower minimum order volumes, so we can be more flexible on the sizes we are able to stock. In the meantime, it's always worth checking your fit with our bra fit experts, to see what your runderwear size is – your runderwear size is usually different to your usual bra size.
Check out our blog post for top tips on bra fitting.
runderwear bra fit blog